Ford Alignment Services in
East Hanover, NJ
Typically your alignment is something you only think about when you experience something unusual regarding the ride or handling of your vehicle. At this point, you're usually at the point where you have to replace parts or pick up an unexpected set of tires, but regular alignment checks at Performance Ford of East Hanover can help you stay ahead of such trouble.
How Do I Know I Need an Alignment?
While it isn't always easy to spot the early signs of a vehicle that is out of alignment, there are a few things you can look for that will help you stay ahead of a bigger problem.
First, check the tread depth of your tires in a variety of areas. Simply checking one place may not expose a potential alignment problem, but checking across the entire tread a few places around the tire may help you spot trouble. If you find uneven wear across the tread, or you notice certain patches of the tire are thinner than others, that's a sure sign that your alignment needs to be looked at.
Next, if you notice a vibration in your steering wheel while you're not braking, that can be a symptom of an alignment problem.
Finally, abnormal handling or extended stopping distance not due to brake issues can be a sign that your suspension or alignment need service.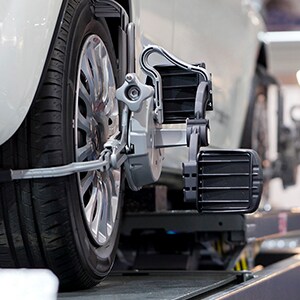 What is Included in a Tire Alignment
Checking tire wear for each tire
Measuring the alignment of each wheel
Making adjustments to set proper alignment
Replacing worn or broken parts if necessary
Test drive and final measurement
Why Alignments Are Important
A misaligned suspension can cause a variety of issues, starting with uneven and rapid tire wear. You'll also notice unpredictable handling, mostly due to your tires not being in optimum contact with the road. All of this adds up to a major safety concern, and it's why having your vehicle alignment checked is so important.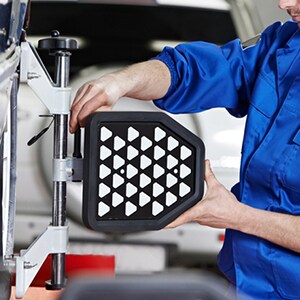 We're sorry, we do not currently have any specials published. Please check back soon or contact us for more information.
Visit Our Dealership Today!
Our Ford Service Center in East Hanover, NJ is here with the tools and expertise to properly align your vehicle. Visit us for your wheel alignment service today!
Hours
Monday

9:00am - 8:00pm

Tuesday

9:00am - 8:00pm

Wednesday

9:00am - 8:00pm

Thursday

9:00am - 8:00pm

Friday

9:00am - 8:00pm

Saturday

9:00am - 6:00pm

Sunday

Closed