Stop with Confidence Thanks to Expert Brake Service in East Hanover
While you may not always realize it, your brakes one of the most important safety features on your vehicle. Responsible for bringing you to a stop dozens of times even on a short trip, you rely on your brakes to deliver confident and consistent stopping power time and time again. Over time though, brakes will wear out and you'll lose that confident stopping power you know and love. Performance Ford of East Hanover offers brake service and repair that will give you the confidence you need behind the wheel.
What Our Brake Service Includes
When you visit Performance Ford in East Hanover for brake service, you'll receive:
Brake component inspection including brake fluid and brake line checks
Brake pad replacement
Brake rotor refacing or replacement (if necessary)
A road test and final inspection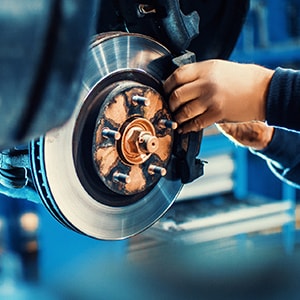 Why Brake Service Matters
Stopping your vehicle on demand is the one thing you always have to rely on, even if other safety measures fail. And because your brake pads and rotors are subject to both friction and heat, they can wear out over time. Too much wear and you'll lose the stopping power you depend on to provide a safe driving experience.
If brake pads become extremely worn, they can even slip out of the brake caliper. This results in damage to both the brake caliper and rotor, resulting in expensive repairs that could have been avoided.
When Should I Replace My Brakes?
While a good guideline for brake pad replacement is every 50,000 miles, your driving habits and the conditions you typically drive in will affect how long your brake pads will last. If you experience vibration while braking, grinding or squealing noises during braking, or longer stopping distances than normal, it's time to schedule your brake service at our East Hanover Ford Service Center.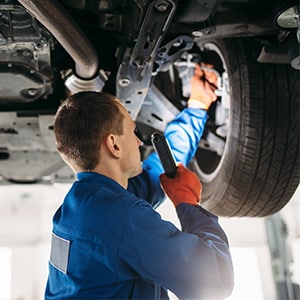 We're sorry, we do not currently have any specials published. Please check back soon or contact us for more information.
Set Up Your Next Brake Service Today!
Get ahead of potential trouble and schedule an appointment to have your brakes checked out today! Our expert Ford technicians know your vehicle's braking system inside and out and use only genuine Motorcraft parts to bring your vehicle back up to peak stopping performance.
Hours
Monday

9:00am - 8:00pm

Tuesday

9:00am - 8:00pm

Wednesday

9:00am - 8:00pm

Thursday

9:00am - 8:00pm

Friday

9:00am - 8:00pm

Saturday

9:00am - 6:00pm

Sunday

Closed